Explore the Ardèche by canoe right from the camp site
Whether you're pros or beginners, an old hand at difficult river courses or a fan of going with the flow, we'll help you discover all the pleasures the Ardèche has to offer.
Water slides, rapids and the mythical passage under the Pont d'Arc– come and explore the natural beauty of the Gorges de l'Ardèche in a fun and refreshing way.
Courses range from 8km up to 32km and from 1 and a half to 5 and a half hours, excluding swimming stops and lunch breaks, so there's really something for everyone
Perfect activities to do as a family or with friends as long as everyone is over 7 years of age and can swim.
Book now, a magical adventure awaits!
Free shuttle buses
You can set off from the camp site in the morning or afternoon without a guide (you're free to cruise the river at your own pace.)
For the 13km course, a favourite amongst our holiday guests, you can set off directly from the camp site beach.
For all other courses, a free shuttle bus will pick you up from the camp site and take you to the starting point.
All trips back to the camp site are by free shuttle bus.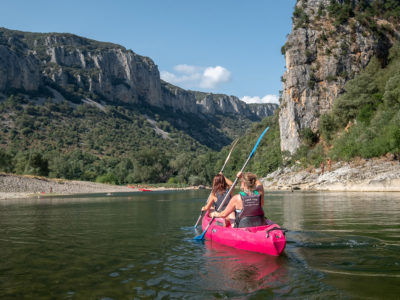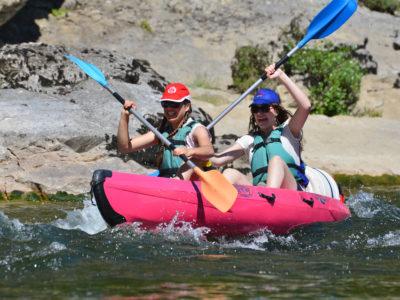 Canoe prices
The courses
Adult
Child
(7 to 14 years)
Departure
time
Return
time
MINI 8 km
½ day – 1h30
24 €
17 €
8:30am
11:00am (picnic)
2:00pm
Noon
3:00pm
6:00pm
MAXI MINI 13 km
½ day – 2h30
32 €
20 €
10:45am (picnic)
1:45pm
3:00pm
6:00pm
1 DAY 24 km (4h30)
or
1 DAY 32 km (6h00)
35 €
22 €
8:30am
Between 4:00 and 5:00pm
2 DAYS with BIVOUAC
32 km
58 €
40 €
Contact us
MINI 8 km with an INSTRUCTOR
½ day – 1h30
42 €
32 €
3rd seat in the middle of a canoe for two people (child from 7 to 10 years old – size: 1m30 max): 15 €