A family-friendly campsite in the heart of the Gorges de l'Ardèche
Activities on the campsite
To ensure our campers in every kind of accommodation can make the most of their holidays in southern Ardèche, our camp-site has a host of leisure activities.
During the summer we organise events for all campers of all ages for fun with your family and friends.
Swimming pool and private riverside beach
A big (220sq.m.) heated swimming and paddling pool, open from 10.00am to 7.00 pm.
On Saturdays you can swim in the evening until 10.00pm.
Our private sandy beach on the bank of the river Ardèche is accessed directly from the camp-site.
Angling (but you must buy a fishing permit).
Adventure playground for children
Multisports playing field
French bowls (pétanque) pitch (floodlit in the evening)
Table Tennis
Table football (a charge is made)
In July and August. Free.
For 5/8 year olds: 10.00am to Noon.
For 9/13 year olds: 3.00pm to 5.00pm.
1 or 2 monitors. Activities include:
Creative workshops for painting, pottery, pearl threading and drawing.
Disguise and make-up.
Treasure hunts, games in and outside the swimming pool.
Parties.
Rehearsals for a small evening cabaret presented by the children during the Friday evening show for all.
Activities and evening entertainment
In July and August, free 6 days out of 7.
Aquafit with coach from 9.30 to 10.00am 5 mornings a week. During the day: French bowls (pétanque) tournaments, Mölkky (ninepins), table tennis, basketball, volleyball, football, billiards, poker, swimming pool games, bar games…
During the evening: concerts, karaokés, cabaret, various games… from 9.00 to 11.00pm.
Canoe trip in Ardèche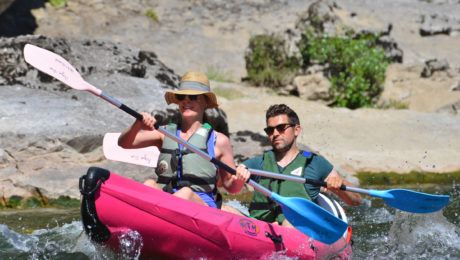 Canoe rentals at the camp-site for trips down through the Ardèche river Gorges (choice of trip lengths 8,13,24 or 32km), with departures directly from the camp-site beach and shuttle bus back to the Le Riviera.
For everyone over 7.
See more about canoe trips